While we take care of your Subaru, our new Xtreme Play Time Center will take care of your kids!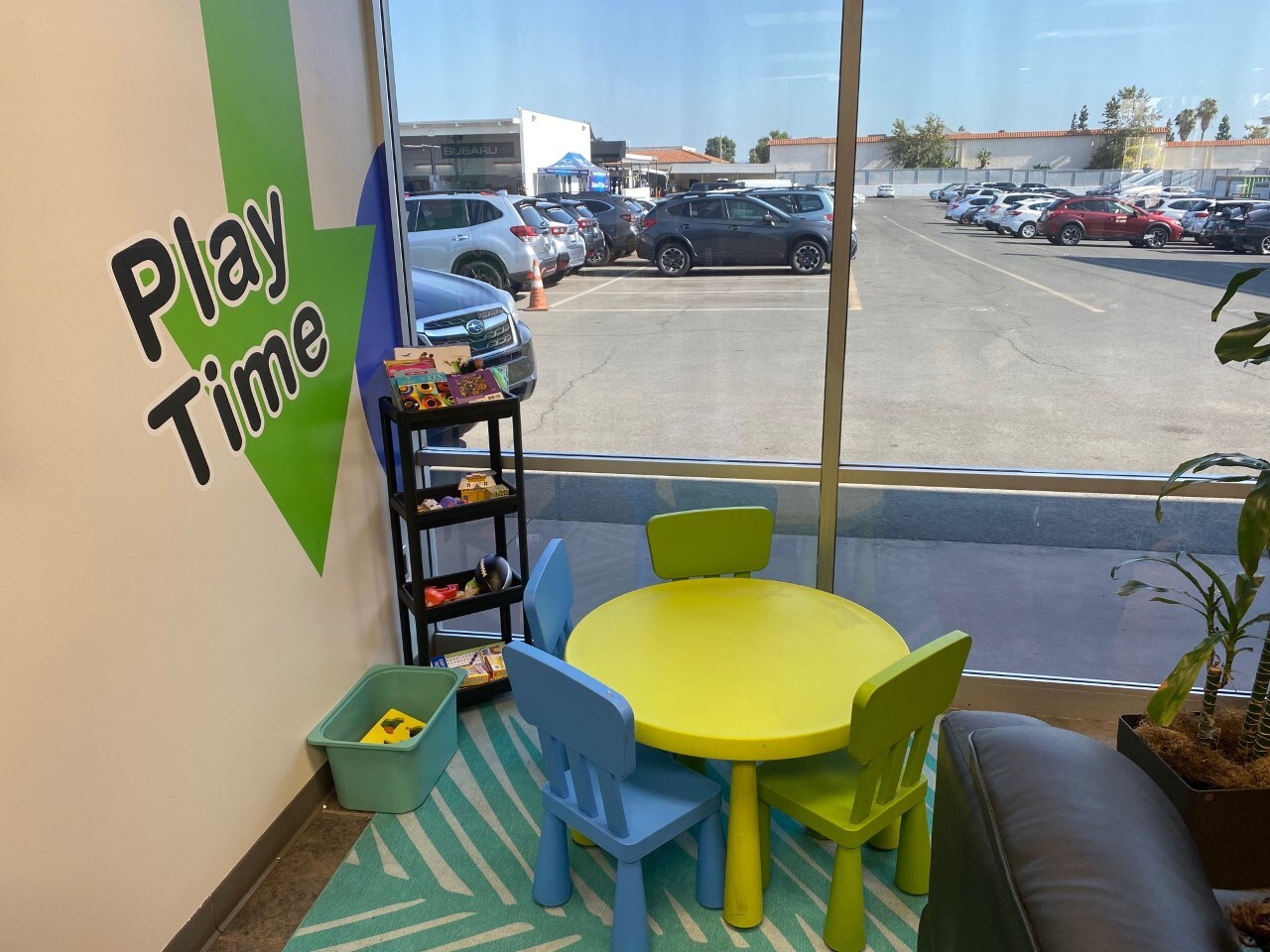 There's no need for your kids to be bored while you're visiting Subaru of El Cajon. We're building an Xtreme Playtime Center designed to help your kids have fun while you're getting your Subaru serviced or talking with our sales or financing specialists. While you're busy acting like a grown-up, our new PlayTime Center will be strictly for kids. It will give you one more great reason to make the short drive from La Mesa or San Diego, CA.
You can deal with the serious stuff while your kids just play around 
Phase One of our Play Time Center is already done at Subaru of El Cajon and it looks like it was designed entirely by people less than five feet tall. It's being filled with colorful toys, crossword puzzles, coloring books and will have an interactive video game screen. As an adult, you'll always be welcome to visit our new Play Time Center in El Cajon, CA, but the real stars of this show will be customers with the gift of acting like children.
We do have fun especially for adults, like test driving a new Subaru Forester
With your kids happily engaged in their pursuits, you can focus on some of your own, like checking out the new Subaru Forester. The Forester is the best-selling Subaru model because it creates so much interior space and comfort inside a stylish exterior. Like all Subaru models, the Forester gives your family the exceptional traction and confident handling of Subaru's innovative Symmetrical All-Wheel Drive no matter how far you go from Santee, CA. 
Come play around with a new Subaru Outback or Crosstrek
The Outback is another Subaru SUV that's compact and maneuverable yet manages to surprise you with how much it offers inside. There's enough space for five full-grown adults and plenty of room for cargo. The Subaru Crosstrek is another compact SUV with more room inside than you might expect. Both models perform well off the beaten path and both protect your family on all your adventures thanks to advanced Subaru safety features.
Talk to our financing specialists who play well with numbers 
When you find the Subaru you love most, it's time to find the right financing and that's where our Finance Center specialists really shine. They can explain the differences between a loan and a lease in language even adults can understand. After they help you decide which form of financing works best for your family, they can connect with our local lending resources to help you get the best available loan rates or lease terms.
Our service specialists help keep your Subaru acting young
The factory-trained service experts at Subaru of El Cajon are well-schooled in the details of whatever Subaru model you drive, whether it's the Forester, the Outback, the Crosstrek or the Subaru Ascent. They can also help your Subaru keep displaying its youthful energy by using genuine Subaru parts, designed to fit your Subaru precisely. Schedule an appointment in our Service Center using our online scheduling tool.
Let us show some extra love to your used car with a great cash offer
Because of the shortage of quality used cars right now, we're making some of our best cash or trade-in offers ever for pre-owned cars, trucks and SUVs. Check our online "KBB Instant Cash Offer" to discover the surprisingly high value of your present car, then browse our complete inventory and schedule a test drive. Come see us soon at Subaru of El Cajon, and be sure to bring the kids.