The 2021 Subaru Love Promise Community Commitment Award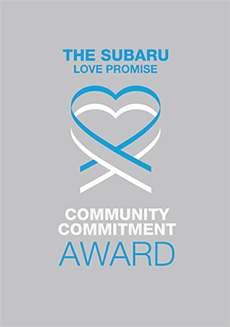 We've been nationally recognized for our dedication to our community and the Subaru Love Promise.
We're honored to receive the 2021 Subaru Love Promise Community Commitment Award. This award nationally recognizes Subaru retailers who are making the world a better place while demonstrating an outstanding commitment to supporting passions and causes in local communities. These efforts are focused in important areas such as the environment, community, health, education, and pets.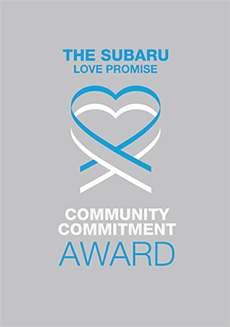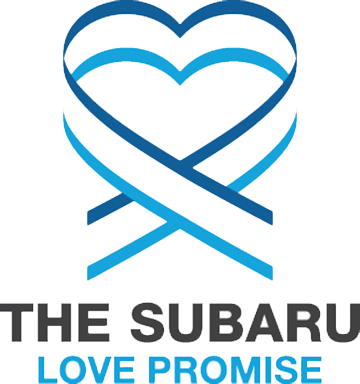 What is the Subaru Love Promise?
Subaru and our retailers believe in making the world a better place and the Subaru Love Promise is our vision of respecting all people. This is our commitment to show love and respect to our customers and to work to make a positive impact in the world.
How is Subaru of El Cajon dedicated locally to the Love Promise?
Here's what love means to us here at Subaru El Cajon Love can be defined in many ways, to be sure. At Subaru of El Cajon, however, we define love as "Having a great interest and pleasure in something." To us, love is providing a great experience for all our guests and making sure everyone has an extraordinary time when they visit us. Our Love Promise to all our guests: • We promise to treat everyone with respect and have empathy with and for them at all times. • We promise to appreciate each and every guest interaction, before, during, and after the sale. • We promise to be open and honest so we may earn the trust of our guests. Why do we have a Customer Love Manager? We work very hard to make sure every guest is completely satisfied. And if we ever fail to meet or exceed our Love Promises, we want to know about it. That's why we have our Customer Love Manager, Randall. Our Customer Love Manager is here to take care of our guests whenever there's a question or a concern, so a successful outcome can be reached, and everyone is happy.
Cajon Valley School District
The Old Globe Theatre, Make A Wish, Feed San Diego, Chaldean Middle Eastern Social Services
Love Promise Stories from Subaru of El Cajon
Subaru and Subaru of El Cajon believe in making a positive impact on the communities in which we live and work. We uphold that belief through our Love Promise Community Commitment. Every month, we select inspiring stories from customers and partners from around our area who strive to support our collective commitment and feature them here
Impresion... - James S
Sir Jose, Good afternoon! I would like to thank you for being to professional and the hospitality you'd given to us. For all the car dealers I have been you're the best. Here in NY...I never seen one like you. Keep it up. I told my son to recommend you and the Subaru of El Cajon to his friend. You really change my impression about all car dealers. I'm very satisfied working to you all. James Sta Maria New York
---
Sharing the Love (the Musical)! - Sheldon G
Being part of the "Sharing the Love" musical project, in partnership with Subaru of El Cajon, and the exceptional executive producer, Randall Blaum, has been a 'love story' come true. My entire life revolves around musicals, and after not having a space and theatre to create for over a year, this opportunity has been a cathartic experience every step of the way. Randall and his team have welcomed us into their family over the past few months, and have literally opened their doors to us as we filmed on their lot at Subaru of El Cajon. I feel so blessed for the opportunity to be a part of this exceptional team, and am beyond grateful for their support and generosity throughout this process. I cannot wait to see the final outcome on Cox Cable when it's released in July, a perfect 'welcome back' as we eagerly re-open our San Diego theatrical community for what I hope is the most thrilling comeback to date. Thank you Subaru of El Cajon for supporting local artists and giving us a platform to continue creating even through the pandemic! A true #lovestory! -Sheldon Gomabon
---
Sharing The Love - Stephen B
Directing "Sharing The Love" with Randall Baum and the entire team has been a rewarding and artistically fulfilling experience. At a time when producing any type of art has been a challenge, coming together with so many talented people to achieve a nearly impossible feat under the circumstances fed not only my creative soul, it also provided me with a richly personal experience. I am amazed at the vision and forethought that Randall and the whole team at Subaru of El Cajon had to make this project a reality. From the location shoots, to our many days at Subaru of El Cajon filming dance numbers and scenes, I had the best time. This is a project I am extremely proud of and without the love and dedication from all involved it would not have been possible. I am excited to SHARE THE LOVE with audiences in San Diego and across the country!
---
Sharing the Love - Melissa G
I had an amazing time filming "Sharing the Love," a new mini-musical for Subaru of El Cajon! Randall and the entire team were kind, welcoming, and always working hard to make the shoot as easy as possible. I'll never forget the time I filmed a big production number in the lot of Subaru of El Cajon!
---
Subaru of El Cajon is second to none. - John L
I'd like to tell my story that started out a bit rough and ended with such a happy ending. After having a tiny issue with my new car which required it be towed, let it suffice to say I arrived at the dealership a little bit edgy. I was immediately greeted by Tiffany with a warm comforting smile and such a positive attitude reassuring me that the problem would be handled quickly. After that I was greeted by a lovely young lady named Portia who was so kind to me the entire time I waited for my car to be taken care of. The manager Paul is nothing short of a rockstar. I had not met him before that morning and he greeted me kindly and took me into his office and, without boring you with details, he took such good care of me that when I walked out of there I felt strongly he had just handed me the mythical "win-win" situation. I truly hope He feels the same way. This is my second brand new Subaru Crosstrek that I have owned and to be honest, I can't see myself ever driving anything but a Subaru. Their customer service program is second to none. Whoever created it must be a genius. I have never had anything but stellar interactions from each and every employee at Subaru of El Cajon and I cannot possibly imagine buying a car from anyone else. I cannot put into words how much I am impressed by their customer service. Thank you so much.
---
Subaru El Cajon Grants Xuan's Make-A-Wish - Xuan H
Xuan lives with a rare genetic mutation, SCN8A, It causes severe seizures, many prolonged needing multiple hospitalizations in the ICU. The syndrome also known as the CUTE Syndrome limits her mobility, slows her cognitive development and results in other medical conditions. Xuan loves vehicles, especially fancy sports cars and motorcycles, and while she is unable to ride one, she chose the next best thing – a wish to have a green scooter that she could manage herself and give her the freedom she so badly craves. When Make-A-Wish San Diego asked Subaru of El Cajon to sponsor Xuan's wish, the Subaru team quickly welcomed this special opportunity. Xuan was very specific that she didn't just want any scooter, but a bright green one, her favorite color with 2 seats so she could drive her friends around with her. The 2 seated scooter did not come in green, but Subaru worked their magic and were able to make the scooter in Xuan's favorite shade of green! Plus they put a governor on to help Xuan control it due to her slow mobility difficulties. Xuan could not wait for the day to come when her scooter would arrive. Every day she asked me. On that morning when I told her her wish was finally about to come true, she was so elated. The excitement and smiles lasted all day. The make-a-wish team and Subaru went above and beyond; Decorations, outfit and even a parade of cars with her green scooter following the end. She was so eager to get on and the smile was just pure joy to watch. My heart felt like it was going to burst for her. We cannot thank Subaru enough for making Xuan's wish come true! I still get emotional when I look at the pictures. Wishes can come true and one young lady knows that. We are so grateful; there are no words to describe what a beautiful and magical day Xuan's wish day was. Thank you Subaru and everyone!
---
Subaru El Cajon Grants Xuan's Wish - Heather G
Fourteen-year-old Xuan lives with a chronic nervous system disorder that limits her mobility and has slowed her cognitive development. Xuan loves motorcycles, and while she is unable to ride one, she chose the next best thing – a wish to have a green scooter that would give her the freedom of mobility. When Make-A-Wish San Diego asked Subaru of El Cajon to sponsor Xuan's wish, the Subaru team quickly welcomed this special opportunity. Xuan was very specific that she didn't just want any scooter, but a bright green one, her favorite color. Unfortunately the scooter only came in pink, but that was not a problem, Subaru worked their magic and were able to custom wrap the scooter in Xuan's favorite shade of green! When Xuan's wish day arrived, she waited patiently outside her home in her green custom bedazzled track suit, as a parade of Subarus came honking down the street! To Xuan's delight, bringing up the rear of the parade was her very own bright green scooter. The Team at Subaru El Cajon presented Xuan with her new ride, and after a brief tutorial – she and her mom took off down the street. The joy and excitement never left her face throughout the wish day. A huge thanks to Subaru El Cajon for your generosity and commitment to making wishes like Xuan's come true!
---
Subaru Provides Rescue with Space for Events - Katie M
Subaru of El Cajon has partnered with The Rescued Dog, an all-breed dog rescue based in San Diego, CA, to support several events. Subaru of El Cajon has provided safe and welcoming spaces at the dealership to host adoption events and microchipping events. The Rescued Dog is totally foster-based, meaning that all of the rescue's dogs live with foster families while we get them cleaned up, decompressed, and assessed for any health and behavior issues. We depend on wonderful partners like Subaru of El Cajon to host our events because we don't have a central space of our own. The staff at Subaru of El Cajon always goes out of their way to make us feel welcome and supported. It always feels a bit like a second home when we have an event at the dealership. On a personal note, since partnering for these events with Subaru of El Cajon, I opted to purchase a Crosstrek at the dealership, in March 2019. I love my Crosstrek, and my dogs and I are always welcome at the dealership when we come in for service. I appreciate the excellent customer service for both humans and canines there. There is always a bowl of water out, and the staff doesn't mind if your puppy decides to play in it instead of drinking out of it. Katie Michelmore, President and Co-Founder, The Rescued Dog, and Subaru family member
---
Subaru of El Cajon blankets ECTLC - Helen Z
Subaru of El Cajon provided 80 beautiful blue blankets to the men, women, and children that reside at East County Transitional Living Center. As the season changes and the cooler weather begins the need for warm clothing becomes very important to the folks that come to us seeking assistance. This year, more than any other since our beginning in 2009, the number of families and singles facing homelessness has been overwhelming. We are located in the East County of San Diego. According to Forbes, the San Diego area ranks the fifth largest population of homeless in the United States. Due to the impact of the COVID restrictions, many families and singles have lost employment, housing, or savings and have found themselves homeless. Friends, family, and even hotels are unwilling or unable to accept the risks of hosting anyone that may be contagious or unable to contribute. Shelters are sometimes the only options left and they are filling up quickly, many having waiting lists of hundreds of families. ECTLC strives to provide our program members with all the necessities and donations such as these blankets are very welcome. Our mission is to provide transitional housing and restore lives and it is critical to the success of our programs to have partners such as Subaru of El Cajon to assist us in meeting the needs of those we serve.
---
When people care about people - Randall B
I am the Internet Sales Manager for Subaru of El Cajon. I am phenomenally grateful to be working with a team of professionals at Subaru of El Cajon and for a management team that is concerned about the bottom line but is more concerned about how we treat our staff and their families. Here's what I mean: We haven't furloughed anyone, We found ways to make it work having people work from home, We have all the CDC protocols in place, We have daily conversations about any team member that needs help and we find a way to help them. We gave away (and still are) free oil changes to anyone in San Diego County who owns a Subaru- no questions asked, no small print or upsells. This helps everyone in need and keeps our service team working. We created bonus programs to add to our sales staff's income to make sure they all "made it" and did not live in fear. We gave time off to anyone who needed it. We shortened hours and made sure that our team had family time. The car business gets a lot of bad press--a lot of it well deserved--there are, however, a lot of great people at SEC working very hard for our customers and our team and "the little dealer that could" is creating new ways, almost every day, to adapt to the new way things are happening. I wanted to take just a moment to thank our entire Subaru of El Cajon team and our company. In my years of working I have never seen a group of people or a company so singularly focused on making sure we are all safe, employed, and so willing to help each other. Well done, team, and I am proud to be a part of this most extraordinary group of people. #sharethelove #subaru #subaruofelcajon #freeoilchange #team #happiness
---