The 2021 Subaru Love Promise Community Commitment Award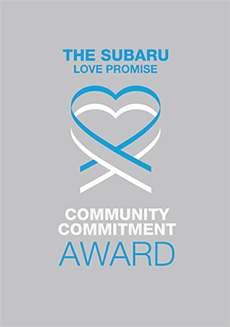 We've been nationally recognized for our dedication to our community and the Subaru Love Promise.
We're honored to receive the 2021 Subaru Love Promise Community Commitment Award. This award nationally recognizes Subaru retailers who are making the world a better place while demonstrating an outstanding commitment to supporting passions and causes in local communities. These efforts are focused in important areas such as the environment, community, health, education, and pets.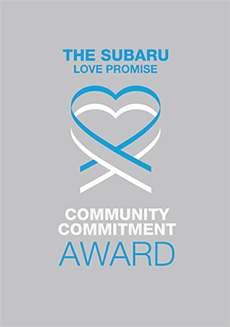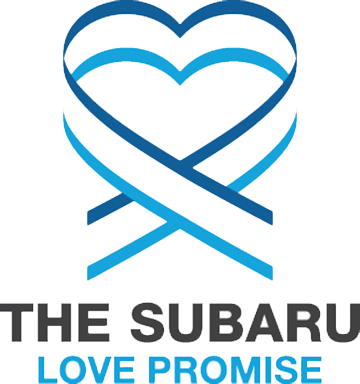 What is the Subaru Love Promise?
Subaru and our retailers believe in making the world a better place and the Subaru Love Promise is our vision of respecting all people. This is our commitment to show love and respect to our customers and to work to make a positive impact in the world.
How is Subaru of El Cajon dedicated locally to the Love Promise?
Here's what love means to us here at Subaru El Cajon Love can be defined in many ways, to be sure. At Subaru of El Cajon, however, we define love as "Having a great interest and pleasure in something." To us, love is providing a great experience for all our guests and making sure everyone has an extraordinary time when they visit us. Our Love Promise to all our guests: • We promise to treat everyone with respect and have empathy with and for them at all times. • We promise to appreciate each and every guest interaction, before, during, and after the sale. • We promise to be open and honest so we may earn the trust of our guests. Why do we have a Customer Love Manager? We work very hard to make sure every guest is completely satisfied. And if we ever fail to meet or exceed our Love Promises, we want to know about it. That's why we have our Customer Love Manager, Randall. Our Customer Love Manager is here to take care of our guests whenever there's a question or a concern, so a successful outcome can be reached, and everyone is happy.
Cajon Valley School District
The Old Globe Theatre, Make A Wish, Feed San Diego, Chaldean Middle Eastern Social Services
Love Promise Stories from Subaru of El Cajon
Subaru and Subaru of El Cajon believe in making a positive impact on the communities in which we live and work. We uphold that belief through our Love Promise Community Commitment. Every month, we select inspiring stories from customers and partners from around our area who strive to support our collective commitment and feature them here
My Puppy Loves Subaru - Rachel P
Subaru of El Cajon did an exceptional job of showing how much they love their customers. Jose and Randall gave my puppy a bark box filled with subaru toys, a leash, wipes, and other super cute items. She absolutely loves them and it really showed the extra effort they show. I highly recommend as their customer service is the best!
---
El Capitan High School Football 2021 - Kevin R
The El Capitan High School Football Team would like to thank Subaru of El Cajon and Mr Randall Blaum for being a Platinum Sponsors for the 2021 season! Their generous donation and support assisted to lessen the growing costs of our sports teams, purchase updated equipment, uniforms, and essential materials to maximize performance. We are extremely grateful for entire team over at Subaru El Cajon and appreciate their continued support for the entire Vaqueros community and fans!
---
Shady's Big Adventure - Jennifer F
A big thanks to Patrick and the rest of the kind and caring team at Subaru of El Cajon! I never thought that my almost 14 year old dog would be up to exploring and having an adventure on her own, but then I got a call and text message from Patrick saying he found my dog. She somehow got out of the gated yard, then fortunately, Patrick rescued her and took her to Subaru of El Cajon & kept her safe until I could come get her. When I arrived Shady was surrounded by toys and treats and was being treated like a queen! I would hate to think of what could have happened to my fur baby on the busy street if Patrick hadn't come along! Shady came home with a box full of goodies and she even shared with her brother Murphy who thankfully stayed home while Shady went off on her adventure! I'm not in the market for a car right now, but when I am, I will definitely be heading to Subaru of El Cajon. They truly care about our community and look out for their neighbors, even the 4-legged ones. This commitment to the community they serve and the reputation of quality Subaru products goes a long way in creating trust and makes it a company I would be happy to do business with. Jennifer F.
---
Chase Avenue School Thanks Subaru! - Karen W
As everyone knows these are challenging times. We at Chase Avenue Elementary School would like to thank Subaru of El Cajon for all they have done to support our students and staff. Your kindness and generosity have made a difference!
---
Great Experience at Subaru! - Amy L
Last week Juan at Subaru of El Cajon was so helpful as I picked out my new car. He and the other staff were knowledgeable and welcoming without being pushy. I was there for several hours before making a decision but he was very patient. I ended up deciding on a car in my price range and I'm thrilled with it. Nobody pushed me to pay more than I could afford or tried to slip in extra fees. This is the first time I have purchased a car and not felt manipulated by a dealership. What's more, they surprised me with a gift box for my dogs as a thank you. This is the only place where I will buy cars from now on and I'm recommending them to my friends too. It feels nice to support a business that gives back to the community and local school district.
---
Dog Friendly - Joshua T
Everyone at Subaru of El Cajon has been super friendly. We brought our pup in with us to search and everyone was very accommodating towards her presence. Don't be afraid to bring your pup with you to shop here. The New Parent Dog Box is great!
---
Subaru and my Puppy - Heidi J
Thank you Subaru for, once again, proving that you care. With all of the Subaru Love events, donations and sponsorships - I have been seeing Subaru everywhere. Not to mention, the new puppy kit. Our Subaru story starts long ago with a 90's Legacy Outback and has progressed to the modern day Crosstrek and Outback. When I think of Subaru, I think of the ability to go anywhere I want to go. Including Colorado, Nevada, and many local mountains here in Southern California. Our family has always loved and trusted Subaru. We love the safety we feel driving a Subaru and now our puppy,Ty. Ty loves going for rides too. He's always so excited to go camping or hiking or to the beach. Going for a "ride" is all of our favorite part of the day! We also love our Pet Parent Kit. So many great things for our adventures with Subaru!
---
Impresion... - James S
Sir Jose, Good afternoon! I would like to thank you for being to professional and the hospitality you'd given to us. For all the car dealers I have been you're the best. Here in NY...I never seen one like you. Keep it up. I told my son to recommend you and the Subaru of El Cajon to his friend. You really change my impression about all car dealers. I'm very satisfied working to you all. James Sta Maria New York
---
Sharing the Love (the Musical)! - Sheldon G
Being part of the "Sharing the Love" musical project, in partnership with Subaru of El Cajon, and the exceptional executive producer, Randall Blaum, has been a 'love story' come true. My entire life revolves around musicals, and after not having a space and theatre to create for over a year, this opportunity has been a cathartic experience every step of the way. Randall and his team have welcomed us into their family over the past few months, and have literally opened their doors to us as we filmed on their lot at Subaru of El Cajon. I feel so blessed for the opportunity to be a part of this exceptional team, and am beyond grateful for their support and generosity throughout this process. I cannot wait to see the final outcome on Cox Cable when it's released in July, a perfect 'welcome back' as we eagerly re-open our San Diego theatrical community for what I hope is the most thrilling comeback to date. Thank you Subaru of El Cajon for supporting local artists and giving us a platform to continue creating even through the pandemic! A true #lovestory! -Sheldon Gomabon
---
Sharing The Love - Stephen B
Directing "Sharing The Love" with Randall Baum and the entire team has been a rewarding and artistically fulfilling experience. At a time when producing any type of art has been a challenge, coming together with so many talented people to achieve a nearly impossible feat under the circumstances fed not only my creative soul, it also provided me with a richly personal experience. I am amazed at the vision and forethought that Randall and the whole team at Subaru of El Cajon had to make this project a reality. From the location shoots, to our many days at Subaru of El Cajon filming dance numbers and scenes, I had the best time. This is a project I am extremely proud of and without the love and dedication from all involved it would not have been possible. I am excited to SHARE THE LOVE with audiences in San Diego and across the country!
---