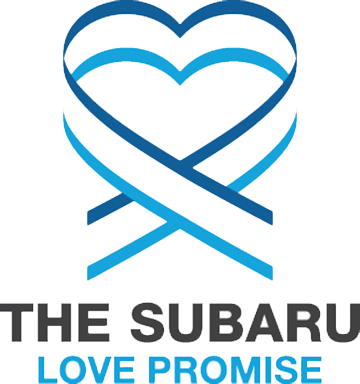 What is the Subaru Love Promise?
Subaru and our retailers believe in making the world a better place and the Subaru Love Promise is our vision of respecting all people. This is our commitment to show love and respect to our customers and to work to make a positive impact in the world.
How is Subaru of El Cajon dedicated locally to the Love Promise?
Here's what love means to us here at Subaru El Cajon Love can be defined in many ways, to be sure. At Subaru of El Cajon, however, we define love as "Having a great interest and pleasure in something." To us, love is providing a great experience for all our guests and making sure everyone has an extraordinary time when they visit us. Our Love Promise to all our guests: • We promise to treat everyone with respect and have empathy with and for them at all times. • We promise to appreciate each and every guest interaction, before, during, and after the sale. • We promise to be open and honest so we may earn the trust of our guests. Why do we have a Customer Love Manager? We work very hard to make sure every guest is completely satisfied. And if we ever fail to meet or exceed our Love Promises, we want to know about it. That's why we have our Customer Love Manager, Randall. Our Customer Love Manager is here to take care of our guests whenever there's a question or a concern, so a successful outcome can be reached, and everyone is happy.
Cajon Valley School District
The Old Globe Theatre, Make A Wish, Feed San Diego, Chaldean Middle Eastern Social Services
Love Promise Stories from Subaru of El Cajon
Subaru and Subaru of El Cajon believe in making a positive impact on the communities in which we live and work. We uphold that belief through our Love Promise Community Commitment. Every month, we select inspiring stories from customers and partners from around our area who strive to support our collective commitment and feature them here
Subaru of El Cajon blankets ECTLC - Helen Z
Subaru of El Cajon provided 80 beautiful blue blankets to the men, women, and children that reside at East County Transitional Living Center. As the season changes and the cooler weather begins the need for warm clothing becomes very important to the folks that come to us seeking assistance. This year, more than any other since our beginning in 2009, the number of families and singles facing homelessness has been overwhelming. We are located in the East County of San Diego. According to Forbes, the San Diego area ranks the fifth largest population of homeless in the United States. Due to the impact of the COVID restrictions, many families and singles have lost employment, housing, or savings and have found themselves homeless. Friends, family, and even hotels are unwilling or unable to accept the risks of hosting anyone that may be contagious or unable to contribute. Shelters are sometimes the only options left and they are filling up quickly, many having waiting lists of hundreds of families. ECTLC strives to provide our program members with all the necessities and donations such as these blankets are very welcome. Our mission is to provide transitional housing and restore lives and it is critical to the success of our programs to have partners such as Subaru of El Cajon to assist us in meeting the needs of those we serve.
---
When people care about people - Randall B
I am the Internet Sales Manager for Subaru of El Cajon. I am phenomenally grateful to be working with a team of professionals at Subaru of El Cajon and for a management team that is concerned about the bottom line but is more concerned about how we treat our staff and their families. Here's what I mean: We haven't furloughed anyone, We found ways to make it work having people work from home, We have all the CDC protocols in place, We have daily conversations about any team member that needs help and we find a way to help them. We gave away (and still are) free oil changes to anyone in San Diego County who owns a Subaru- no questions asked, no small print or upsells. This helps everyone in need and keeps our service team working. We created bonus programs to add to our sales staff's income to make sure they all "made it" and did not live in fear. We gave time off to anyone who needed it. We shortened hours and made sure that our team had family time. The car business gets a lot of bad press--a lot of it well deserved--there are, however, a lot of great people at SEC working very hard for our customers and our team and "the little dealer that could" is creating new ways, almost every day, to adapt to the new way things are happening. I wanted to take just a moment to thank our entire Subaru of El Cajon team and our company. In my years of working I have never seen a group of people or a company so singularly focused on making sure we are all safe, employed, and so willing to help each other. Well done, team, and I am proud to be a part of this most extraordinary group of people. #sharethelove #subaru #subaruofelcajon #freeoilchange #team #happiness
---